Brazilian Jiu-Jitsu (JJB) is much more than just a martial art; it's a constant journey of learning, discipline and self-mastery. The JJB belts order is a reflection of your progress and skills. In this guide, we'll explore the different belt grades that will complete your Jujitsuka outfit in addition to your Brazilian Jiu Jitsu kimono.
The importance of the bjj belt order:
The BJJ belt system is a visual representation of a practitioner's level of skill and experience. Choosing the right belt is a crucial step in ensuring you get the most out of your journey in this dynamic martial art.
The BJJ belts order for adults (aged 16 and over):
White Belt:
The white belt is awarded to beginners, symbolizing the novice state in JJB. This belt is worn for at least two years before moving up to the next grade.
Objective: Understand basic positions, exits and initial submission techniques.
Blue belt:
The blue belt represents the first level of competence in JJB.
Objective: Develop a solid basic game, master defense techniques, and begin to understand combat strategies.
Purple belt:
The purple belt indicates an advanced intermediate level in JJB.
Objective: Deepen understanding of techniques, develop personal playing style, and begin teaching lower belts.
Brown belt:
The brown belt is awarded to advanced JJB practitioners.
-Objective: Refine skills, perfect techniques, and prepare for the transition to black belt.
Black belt:
The black belt is the highest belt level in JJB.
-Objective: Represents exceptional mastery of JJB, the ability to teach, and the capacity to contribute to the development of the martial art.
It is also possible that your color belt is divided by "degree". From white to brown there are 4 degrees per belt and 6 for the black belt. These degrees allow you to see a progression in your level between belts, until you reach the level needed to move up to the next grade.
Progression from one belt to the next depends on various factors such as regular practice, competitions, mentoring, and demonstration of technical skills. The JJB belt system is designed to encourage continued growth and the pursuit of excellence in the martial art.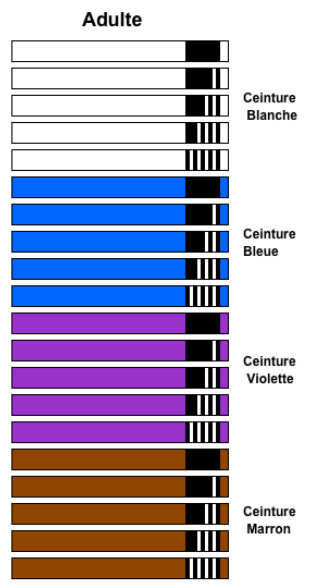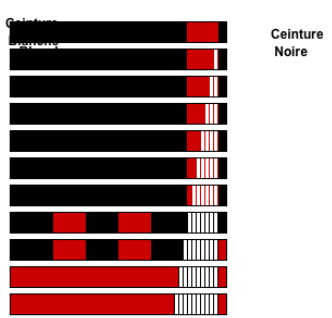 The order of JJB belts for children:
The belt system for children in Brazilian Jiu-Jitsu (JJB) generally follows a similar structure to that for adults, although the specific criteria may vary from school to school. Here's a general list of children's belts and what they represent:
White belt:
The white belt is generally awarded to beginners, symbolizing the starting point of their JJB career.
Objective: To introduce the basics of JJB, including positions, basic movements, and the concepts of respect and discipline.
Grey Belt:
This belt indicates progression beyond beginner level.
Objective: Reinforce the basics of JJB, introduce more advanced techniques, and encourage active participation in classes.
Yellow belt:
The yellow belt represents an intermediate level for children learning JJB.
Objective: Deepen understanding of positions, basic bidsding and strategic concepts.
Orange belt:
The orange belt is awarded to children who have acquired a certain mastery of basic JJB techniques.
Objective: Develop a wider repertoire of movements, encourage participation in friendly competitions, and promote leadership within the group.
Green Belt:
The green belt represents an advanced level of competence for children in JJB. Objective: To master an extensive set of techniques, encourage more serious competition, and reinforce respect for JJB values.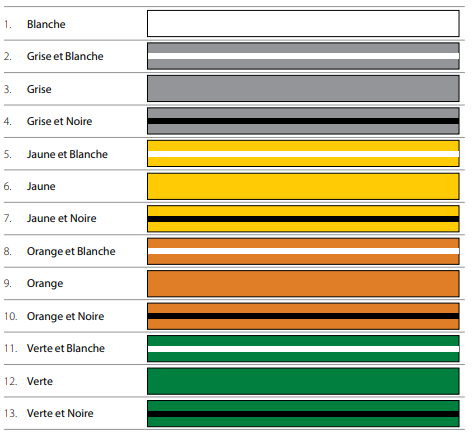 Visit our boutique at 1 rue des Messageries 75010 Paris to discover all our Brazilian Jiu Jitsu and judo equipment!
We welcome you with open arms to our Parisian store, where you can embroider your belts in less than a quarter of an hour!