If your child is starting judo, you may be wondering which equipment to choose. Don't panic, we will advise you on how to choose the best judogi for your child in this article.
Important points for choosing the best judogi for your child:
– The size:
The size of the judogi is the first criterion to which you should pay attention. A judogi that is too long in the arms and legs will handicap your child, a judogi that is too short will not allow him or her to be comfortable.
In general, judogi shrink slightly during the first two or three washes. It is therefore advisable to wear a size larger than your own. Judogi sizes vary from 5cm to 5cm for adults, for example: 150cm-155cm-160cm-165cm. If you are 1m70 tall we advise you to choose a 165cm judogi.
This rule also applies to children. Moreover, knowing the growth that your child may experience, it is even more preferable to take the size above. For children's judogi, the size varies from 10cm to 10cm. Example: if your child is 1m23 tall, you should choose a 130cm judogi.
Children's judogi generally range in size from 100cm to 150cm, beyond which they are adult judogi.
– The weight:
The second important point is the weight of the judogi. For beginners this may not mean anything to you, but the weight of a judogi is very important.
For children, a rather light weight should be used, so that the judo kimono is easy to wear and does not impede movement. Freedom of movement is important for the practice of judo, which emphasises flexibility of body and mind. In order to perform the techniques your children will learn, they will need to feel light, but care must be taken not to choose a judo kimono that is too light, which could lose resistance and be less resistant to opposing holds.
– Your budget:
To choose the best judogi for your child, it is important to know what is your budget ? If your child is a beginner there is no need to spend a lot of money on high quality equipment. We know that children get bored quickly and may want to change sports.
Don't worry, children's judo kimonos are generally not very expensive. Expect to pay between €20 and €30 for a good quality children's judo kimono.
As we have seen, your children grow up fast! If his or her passion for judo continues you will need to invest quite regularly in larger judo kimonos. But if your child is a regular competitor and your budget can support it, you can consider a better quality judo kimono for a little over 50€ and as soon as he/she exceeds 1m50, opt for a better quality adult judo kimono.
– The comfort:
For a child, comfort in his or her equipment is paramount. If he or she does not feel comfortable in their judogi, they will not be as happy to go to training and competitions. Pay attention to the materials used for the judo kimono, the composition varies from one brand to another. Judogis are either 100% cotton or a mixture of cotton and polyester. The cotton will be more comfortable to wear but more difficult to maintain and will shrink more. You should also be careful with the collar of the judo kimono as it can irritate the neck of your children.
It is best to have your child try on the judogi of your choice to make sure they feel comfortable in their judo kimono.
Our Fighting Films judogi for children.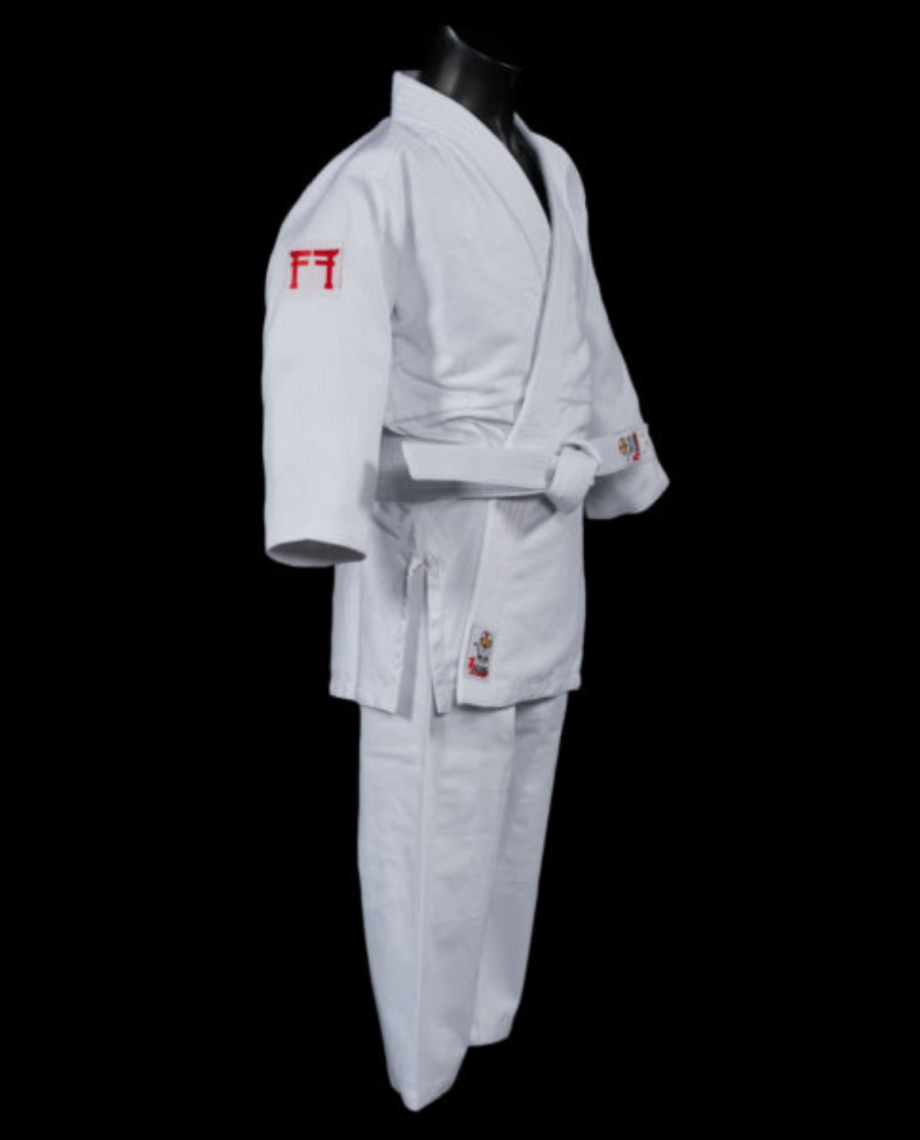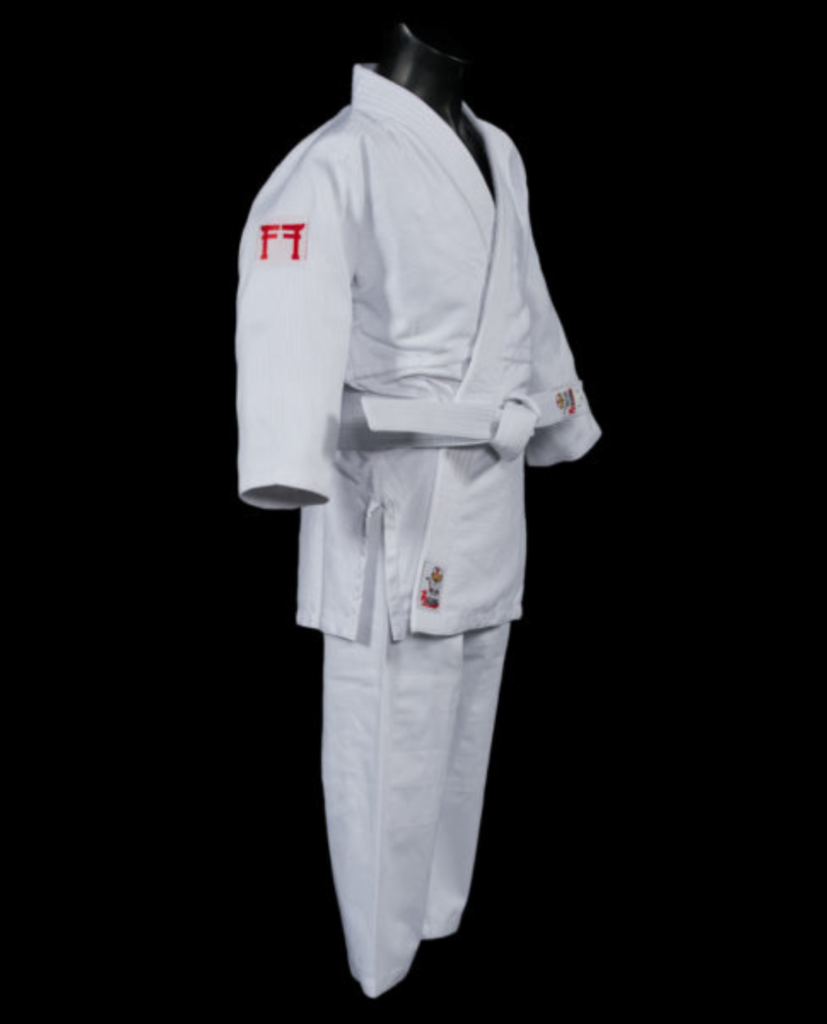 At Fighting Films we offer judo kimonos especially for children. The Hajime range offers sizes from 100 to 150cm. Our judogi are suitable for children as well as for adults. Our Hajime judo kimono is comfortable for children to wear, light and strong at the same time, and is also supplied with a white belt. The rice grain fabric is of good quality. The judogi weighs about 300gr which makes it very strong and more durable than the competition.
positive aspects:
delivered with a white belt
Elastic on the trousers
High quality judo cloth
75 % cotton, 25 % polyester
Our maintenance tips:
machine wash – 30° max – normal
No bleaching
Now that you have everything you need to equip your child, why not equip yourself too? Discover our different models of Fighting Films judo kimono.