Buying a judogi represents a certain investment, it's a piece of equipment that will follow you for many months or years. To make sure you make the right choice, let's discover together how to choose the right size of your judogi.

There are many brands around martial arts and judo. Each brand offers judogi that do not all fit the same way. Through this article, you will know everything about how to choose the ideal size for your Fighting Films judo kimono.
The main rule for choosing the right size of judogi
At Fighting Films, we offer several ranges of judo kimonos which all have one thing in common. They all have one thing in common: they fit quite large and shrink very little in the wash (about 2%). All our judogi ranges except the Hajime and the Red Label have sizes that vary from 5cm to 5cm.
example: Superstar 750 judogi available in 145-150-155-160-165-170-175-180-185-190-195-200 cm. For the Red Label and Hajime the sizes vary from 10cm to 10cm.
We advise all our customers to choose a judogi 5 cm below their height. If you are 1.70m tall, you should choose the 165cm. With our experience and knowledge of our kimonos, we can assure you that this is the correct method to apply.
From 180cm onwards, we offer two different cuts for certain judogi. The Regular fit RF and the Slim fit SF. The two judogis have the same size, but at the belly level, the Regular fit is equivalent to the size above. For example, for a 185cm, the Regular fit will have the same dimensions as a 185 SF, except that at the belly it will have the dimensions of a 190 SF.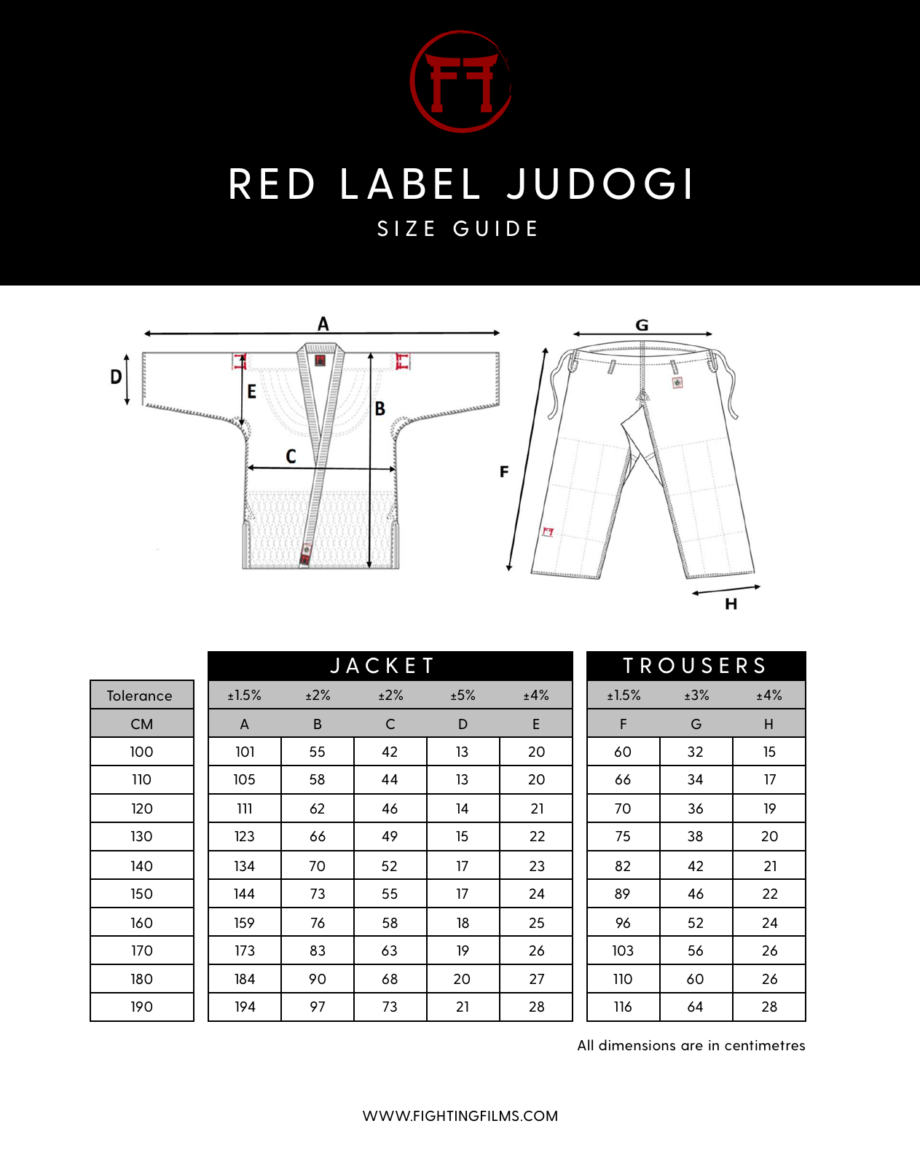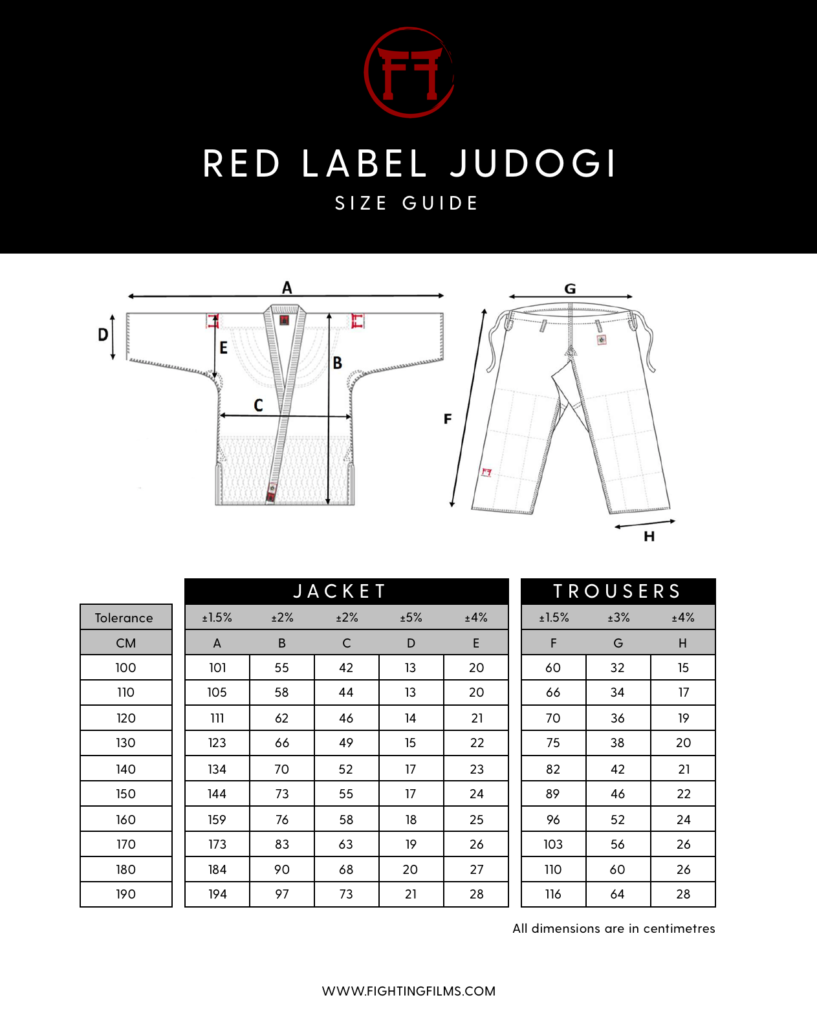 Choosing the right size kimono for your child
Hajime and Red Label judogi are more suitable for children and teenagers. They are available for every 10 cm . Unlike adult kimonos, we advise you to take the size corresponding to your child's size. This is to compensate for the rapid size changes that your children may experience. For a child of 118cm choose a 120cm and not a 110cm.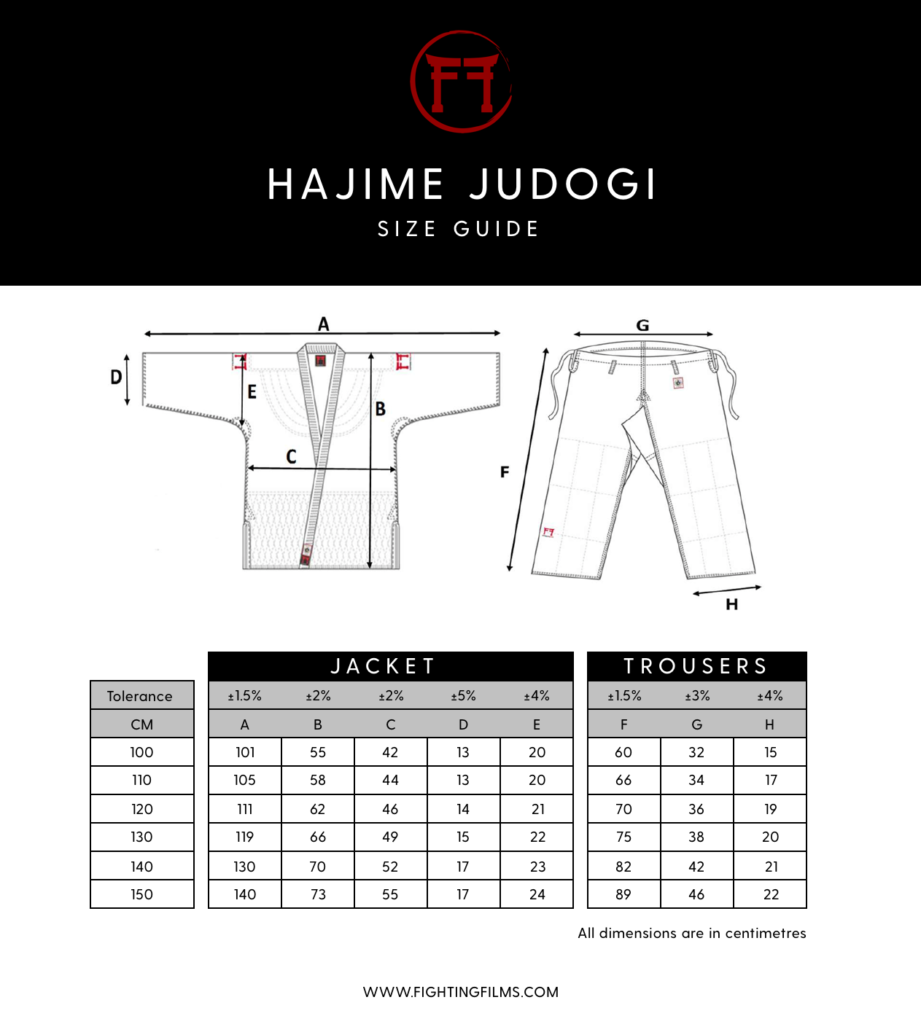 Maintenance of your judogi
Our Fighting Films judogi have different compositions, which implies slightly different care techniques. Some judogi shrink a little more than others. The Red Label and the Black Label are made of 100% cotton because cotton shrinks more in the wash than the Superstar Original and the Superstar 750 judogi.
If your judogi is made of 100% cotton we advise you to wash it at 30°C maximum to limit the effects of shrinkage. All your kimonos made of cotton and polyester can be washed at higher temperatures. The polyester limits the shrinkage of the fabric.
If you would like more information about our judo kimonos, check out our articles on the subject.
You are in charge of a judo club and you want to equip your members? Create your club account and benefit from discounts and other advantages on our judo equipment website.